Save Money by Going Solar
Solar Electric Has Never Been More Affordable Than It Is Today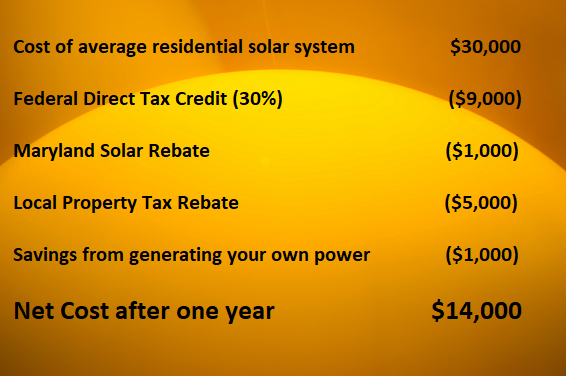 Inflation Reduction Act / Federal Direct Tax Credit of 30%
The federal 30% tax rebate was scheduled to end in 2024, however it was recently extended with the Inflation Reduction Act! This means if you plan on going solar in the near future, and have your system fully installed and paid in full by December 31st, 2032 you will receive a 30% tax credit!
Maryland Solar Grant Update
The MEA grant is a flat $1,000 for residential systems up to 20 KW.
Green Energy Credits. Get Paid for Going Green!
The power you generate with your new Solar array system qualifies for Solar Renewable Energy Credits (SREC's). These credits are commodities that you can sell for current market value on various trading platforms!