Careers
MSSI is currently seeking several professionals to fill entry level to skilled positions for our company. We place a premium on our employees and as a member of our team, your particular talents and experience will be noticed, appreciated and blended into our core team of professionals. Your needs and voice count and you'll experience an "every suggestion counts" environment with MSSI that will make your professional experience with us a valuable and educational one.
Our employees enjoy many (non-standard) contractor type benefits including:
Mon-Fri schedule (when possible)
Paid vacation
Paid holidays
Paid sick days
Permanent, year round employment
Benefits
Growth opportunities
Paid continuing education (where necessary)
401 (K)
Profit sharing
---
Our company is nothing without quality, passionate employees that not only care about the planet and doing our part to make a difference but care about their professional careers and want to make a difference in their own lives. We love our jobs and our mission and we're looking for like-minded individuals to come join us help in the transition to clean energy.
Think you've got what it takes?
Please review the positions and submit your resume, along with salary requirements to colette@marylandsolarsolutions.com
---
Energy Auditor
Qualifications:
0-2 years experience as a Residential Energy Auditor (commercial experience accepted)
Commercial and residential inspection background a big plus
HERS / LEED ratings desirable
Solar site analysis skills highly desirable
Responsibilities:
Conduct home energy audits/assessments which will require entering residential attics, basements and crawl spaces, climbing ladders, interacting with homeowners, and generating a report for the customer.
Energy audits include:
Determining insulation levels in both attics and walls;
Visual checks of age and condition of HVAC equipment and ducts,
Visual checks of windows and weather-stripping;
Completing an energy use data collection form to capture home data.
Encourage homeowners to undertake specific energy saving measures recommended based on the home energy audit.
Explain incentives and/or loans, and tax credits for energy efficiency improvements that may be available.
Educate customers on other efficiency programs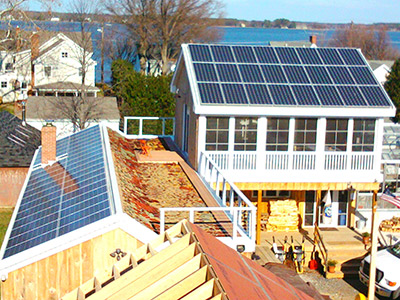 Installer (PV) and/or Solar Thermal
Mechanically minded individual to work in the field installing both residential and commercial grid-tied PV systems with the base office being located in Owings Mills,, MD. Project locations will be mostly in Baltimore metro area. This position involves working on both the mechanical and electrical side of installing solar electric (PV), solar hot water systems.
Duties:
Pulling inventory for specific projects
On site design implementation & working off of plans and schematics
Layout of solar modules / array
Mechanical/structural mounting of racking, modules and electrical equipment
Assembly of mounting hardware
AC and DC Electrical wiring of systems
Attic work in homes and businesses to verify structural attachment
System commissioning / start-up and site clean-up
Job Documentation – photos
Maintain minimum inventory levels on the work truck
Pre-assemble job components
Perform tool maintenance as required
Attend mandatory training sessions on new products, installation methodology and safety
Experience in mechanical installations, general construction and ladder / staging / roof work.
Basic understanding/experience with electrical wiring of AC and DC systems PREFERRED
Experience with all types of hand-held and power tools
Experience with small machinery (trenchers, bobcats, forklifts) DESIRED
Experience working with all types of building materials - various roof types, stucco, wood, concrete, Uni-strut, roofing etc DESIRED